Be the center of their financial universe
Money movement starts here
Users crave speed, convenience and control over how they receive, send and transfer their money. Give them the modern money movement experiences they are looking for by offering innovative functionality directly within your digital banking platform.

We've designed a central hub for your users to access a multitude of money movement tools, all in one place – from traditional wire transfers, market-leading real-time payments (RTP & FedNow), P2P and more.
Faster deposits, faster funds, and a faster method of earning PFI status. The time to modernize your money movement strategy is now.
Instant Account Verification
Safeguard against risk and increase user adoption with instant account verification (IAV). FIs can choose the method in which accounts are verified – giving them visibility and confidence that they are accurately confirming users' account ownership and financial information.

While trial deposits can take days, IAV happens in real-time. When users link their external accounts for making transfers, they only need to enter their online banking credentials. Accounts are verified and processed in real-time, reducing friction in the verification process, and reducing abandonment rates.
Put control into users' hands by enabling them to send their money how they want – and when they want.
Bill Pay: Simplify the bill pay experience by offering all bill payment needs directly within your FI– eliminating the need for users to navigate to multiple biller sites. Enable your users to view their eBills, manage payees, schedule payments, and more.
P2P: Make P2P as easy as 1-2-3. Provide your users with even more flexibility by giving them the option to make P2P transactions directly within your digital banking app.
Allow your users to make fast and seamless transfers– so their money is in the right place when they need it.
A2A: Allow your users to initiate account-to-account (A2A) transfers instantly via the RTP® network and FedNowSM Service.
Account Funding: Users can instantly deposit funds into a bank account by pulling from a linked debit card.
Loan Payments: Give your users the flexibility to make instant loan and credit card payments using a debit card.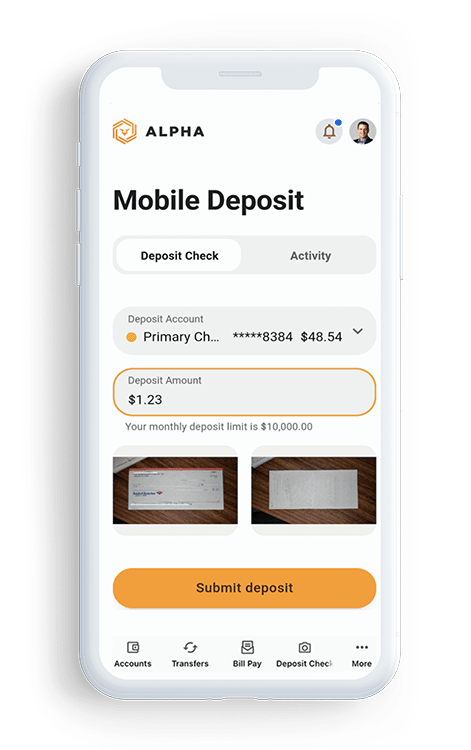 Increase engagement and reduce processing costs with remote deposit capture (RDC), giving your users the ability to easily deposit checks on their mobile devices.
With RDC, it's as easy as Sign, Snap + Deposit.
Your users will be able to access their funds faster than traditional deposit methods, with the convenience of not having to visit a physical branch to do so.
Rather than seeing money leave your FI for a crypto trading platform, look for a way to capitalize on consumer demand and keep money flowing within your institution.
Users can conveniently buy, sell, and hold Bitcoin directly in the online banking platform, stay updated on Bitcoin market value, and benefit from crypto education.
Future-Proofing Your Money Movement Strategy
When innovation is in constant demand, FIs must evolve to meet expectations. To help FIs future-proof their competitive strategy, Alkami has created a partner ecosystem that enables FIs to plug and play modern fintech solutions.
Utilize a network of money movement solutions to facilitate instant transfers, loan payments, P2P transactions, bill pay and more!
Try these deposit-raising strategies to solve for cash flow
Experience better retail banking
See digital banking in action
Experience better banking