Digital Account Opening Solution
Faster onboarding for new accounts, digitally
Execute on your growth strategy for retail & business accounts
Build lasting relationships with prospects via an intuitive digital account opening solution. Elevate your digital branch with mobile-first applications, real-time identity verification powered by Non-Documentary Customer Identification methods, and integrations to cultivate account holder relationships within digital banking. 
Boost engagement with a digital storefront
Implement a digital account opening process that is simple and configurable for consumers and businesses.
Develop interest in checkings, savings, money market, and certificate of deposit accounts by providing informative product detail pages, branded to your FI. Cross-sell additional loans and credit cards based on the needs of the user.
Drive conversions with mobile-first onboarding
Increase conversion rates by removing barriers for users. Offer multiple funding options and streamline the process with bank account authentication or card-based funding.
With instant account verification, your FI can ensure compliance, enable applicants to initiate deposits in as little as seven seconds, and successfully capture funds.
Strengthen your operations & fight fraud
Opening a new account can be cumbersome for internal teams – between preparing account agreements, verifying identities, and boarding the account to the core.
Extend the benefit of online account origination beyond your account holders and into your back office. Create efficiencies with dynamic document generation and instant identity verification via a multi-layered approach.  
Deploy real-time account creation for automated efficiency
Reduce operational costs and friction by seamlessly transferring data from your application to the core. Looking to enhance your onboarding experience?
Once the account is opened, encourage the user to download your digital banking app and instantly register them without any manual entry. Welcome to a new era of growing banking relationships through everyday conveniences and personalized engagements.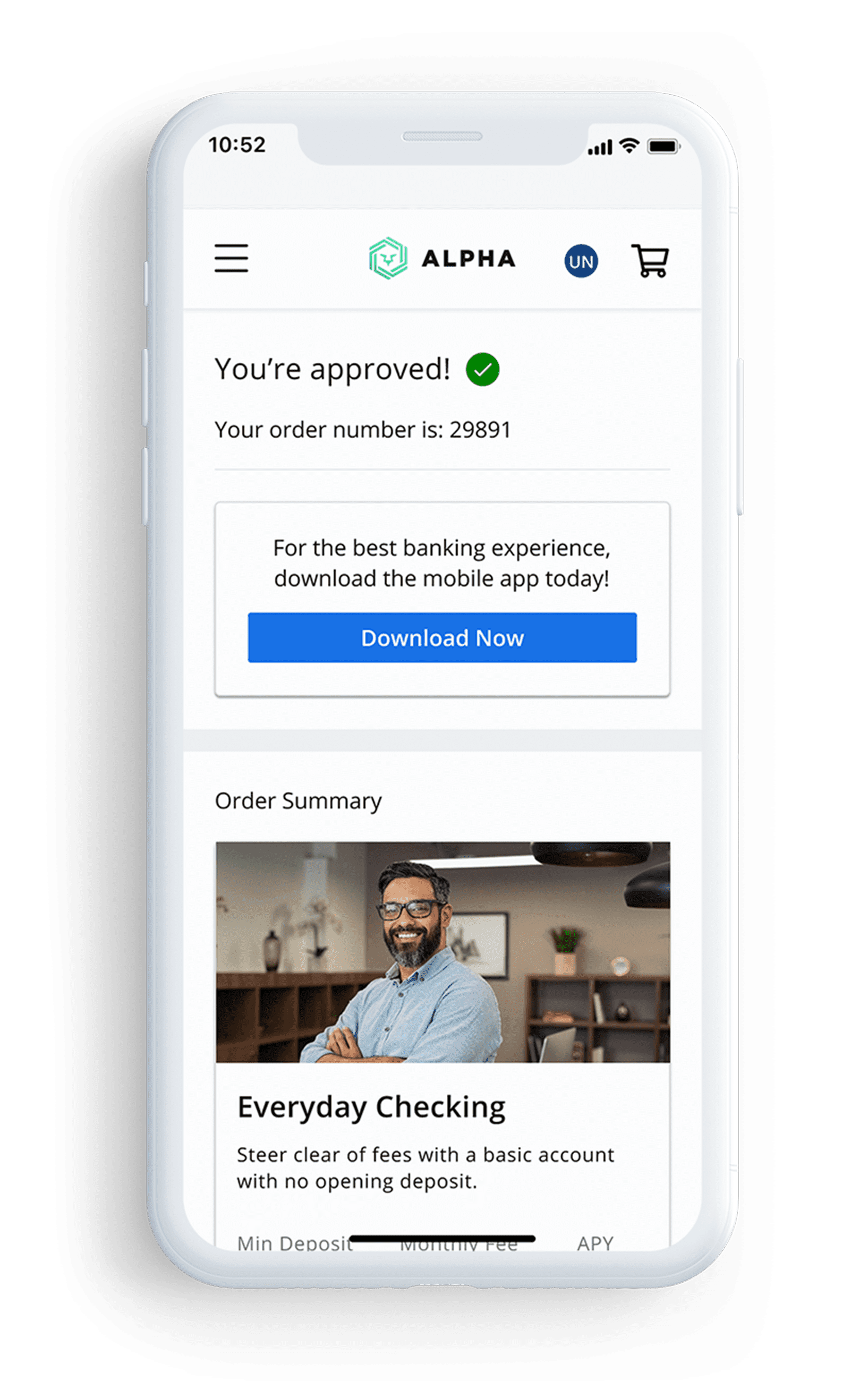 Increase PFI status with existing account holders
Becoming users' primary financial institution (PFI) is no small feat. It takes an enormous amount of effort to gain trust. Account holders have shown their loyalty to you, why not reward them with a superior user experience?
Empower existing users to effortlessly open a new account within digital banking via a streamlined application experience that only asks for signatures on agreements and funding. 
Unify the banking journey
Strengthen both sides of your balance sheet with a comprehensive solution for retail and business users.
Try these deposit-raising strategies to solve for cash flow
DATA ROI POTENTIAL DASHBOARD
Give users who receive tax refunds an easy way to save for a rainy day
Be the trusted financial advisor your account holders deserve. Available only to Alkami digital banking clients, the Data ROI Potential Dashboard identifies users who recently received a tax refund. Share the benefits of saving tax refunds with these users by offering them a savings account with a competitive interest rate.
Alkami is revolutionizing digital onboarding. FIs using this solution have experienced:
Increase in successful application submissions
Reduction in application processing time
Ready to shape the future of digital banking? Alkami's partner ecosystem pairs the brightest minds in fintech with the most forward-thinking financial institutions on an extensible platform built for scalability. It's time to pave the way for innovation.
Experience better banking