Transaction Data Cleansing
Unlock the power of cleansed data
Transaction data cleansing is a critical tool that allows financial institutions to better understand behaviors and model spend patterns through customer transaction analysis.
Clean data with human-supervised AI
Here's how we clean your transaction data accurately and fast. Alkami's team of advanced-degreed library scientists provide human-supervised AI to train and quality-check machine-based merchant detection. We identify, tag, and categorize all of your transactions, including credit card, debit card, ACH, bill pay, and more. A combination of transaction data cleansing and categorization techniques produce highly accurate results for global, national, regional, and local merchants.
Transactions stored in a data warehouse can be appended with enriched metadata from merchant payment cleansing to enable faster and more meaningful reporting and insights.
Much more than an MCIF (Marketing Customer Information File), our data and marketing solutions make marketing automation for financial services possible.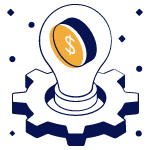 Artificial Intelligence & Modeling​
Using artificial intelligence in banking, with inputs from our industry leading Key Lifestyle Indicators® (KLIs®), gives financial institutions of all sizes access to cutting-edge off the shelf or custom models to predict and influence any audience.
Statement Cleansing & Enhanced CX Experience
Online banking portals have become increasingly important in recent years as more and more people conduct their financial transactions online.
Give your account holders a 5-star personalized banking experience within your online banking portal, starting with clean transaction descriptions.
With accurately cleansed, tagged and categorized transaction data, financial institutions can deliver personalized messaging to the right audience at the right time.
These campaigns can support a wide variety of strategic objectives such as: customer retention, credit card marketing, competitive analysis to increase share of wallet, cross sell and more.
Deliver a better banking experience
Alkami insights help you and your customers grow strategically.
Ready to shape the future of digital banking? Alkami's partner ecosystem pairs the brightest minds in fintech with the most forward-thinking financial institutions on an extensible platform built for scalability. It's time to pave the way for innovation.
See digital banking in action
Experience better banking