Know what's next with AI predictive models
Artificial intelligence in banking isn't a nice-to-have anymore. It's a competitive advantage that financial institutions should begin harnessing right now.
Get the insights you need to grow your institution
Using AI in banking allows you to make sense of all the data produced by your account holders every day. Our models use data to identify daily shifts in spend categories and financial patterns to predict account holders' financial behaviors and needs. 
Predicting account holders' needs will increase product adoption, enabling you to stay top of mind and achieve primary FI status. You can use AI to drive personalized marketing, and make the right offer to the right person.
On-demand access to predicted audiences
Using AI in your institution doesn't need to be complicated. With Alkami, it's simple. After a one-time integration, your data continuously flows into the predictive model, providing the freshest insights on what's important to account holders now.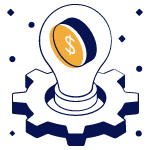 Updated daily and securely
Your account holders are making transactions every day. Use those everyday spending trends to keep tabs on what's important to them, and make informed decisions about your marketing spend and strategies.
With on-demand access to AI model results, you can observe the data produced by your account holders daily to determine impact of spend on future behaviors. And rest assured your account holder data is safe — Alkami tools do not require account holder personally identifiable information (PII).
To reap the benefits of AI, you don't have to be a large institution with a team of data analysts. Alkami deploys out-of-the box models or custom predictive models within weeks. You can get the targeted audiences you need to make an impact at your institution, without hiring a team of data experts, making AI attainable to FIs of all sizes.
Built from our analysis of billions of transactions
Everyday purchase behaviors are extremely predictive of account holders' financial priorities. Alkami AI Predictive Modeling is fueled by your account holders' daily transaction data. We clean and contextualize this data to discover their financial behaviors, spend patterns, and activity with competing institutions.
Off-the-shelf AI models ready for your institution​
Engagement model. Alkami's Engagement AI Model helps FIs focus their time and budget where it matters most—in retaining and growing their engaged account holders. It combines AI, machine learning, and Alkami's proprietary customer insights to help institutions identify account holders who demonstrate behaviors most likely to lead to retention and account growth.
Cross-sell models. Alkami's Cross Sell AI Models identify the account holders most likely to adopt a new product. Select the prebuilt cross-sell model that best matches your strategic growth needs, including money market, credit card, auto loan, and more.
Custom models. Use Alkami's Custom AI Models to make specific predictions for your institution.
Unify the banking journey
Alkami insights help you and your customers grow strategically.
Try these deposit-raising strategies to solve for cash flow
Ready to shape the future of digital banking? Alkami's partner ecosystem pairs the brightest minds in fintech with the most forward-thinking financial institutions on an extensible platform built for scalability. It's time to pave the way for innovation.
See digital banking in action
Experience better banking